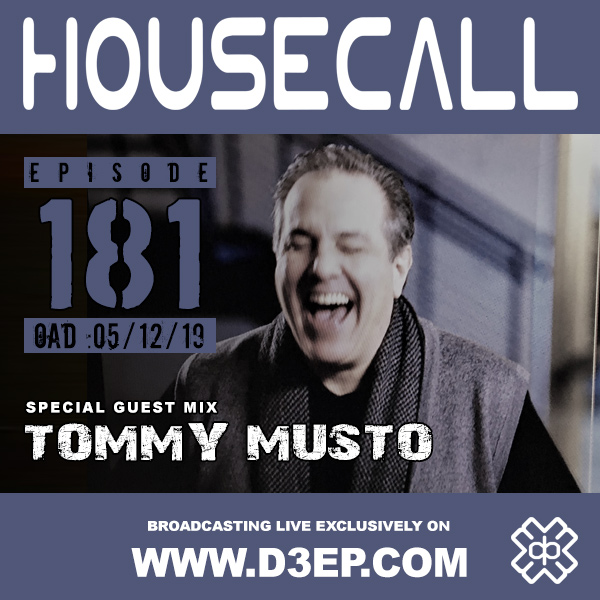 Guest
Host
EP.#
:
:
:
First broadcast on 5th December 2019
You & I – Serge Funk
Back & Forth – Harris & Hurr
Shine A Light – Mendo
Love Move – Alex Preston
Get Hype – Martin Ikin feat. Dope Earth Alien
Let's Get Busy (Grant Nelson Remix) – Clubland
Turbo Time – Patrick Topping
Wiggin' Wants Revenge – GN Special
Power Dance (Mousse T's Disco Shizzle Mix) – Powerdance
Nobody But Yourself – Agua Sin Gas
Yo Barnum (Jihad Muhammad BTD Remix) – Geoffrey C
Get Ur Freak On (Kevin McKay Remix) – Nader Razdar
8 Letters (David Penn Remix) – Holmes Ives & Avalon Frost
High, Alive and Dirty – Demuir
Tribal Dayz – GN Special
Make You Feel – Sebb Junior & Jess Bays
Last Dance – Grant Nelson feat. Solara
** Special Guest Mix from Tommy Musto **
No track list available
** Do You Remember House **
I Need It, I Want It (MK Dub) – Saundra Williams (1994)
The Power To Move Ya (E-Smoove Remix) – Ziggy Marley & The Melody Makers (1995)
Borderline – Michael Gray feat. Shelly Poole (2006)
Gyspy Woman (Shane D Remix) – Crystal Waters
Natural High – Mike Dunn
Feel You Coming – Sebb Junior
** What's In The Box **
Cold (feat. Nazizi & Idd Aziz) – Saronde
** Here's One I Made Earlier **
Walkin' (Grant Nelson's Divine Gospel Mix) – Frankie Knuckles feat. Adeva
** Nelson's Secret Stash **
Living In The System – GN Special
Are You Ready? (Joey Negro Redemption Mix) – Four80East and Cece Penniston
** Flashback **
Gotta Have Your Love – Mantronix
Click Here
to see a complete list of every artist that has been featured on Housecall.