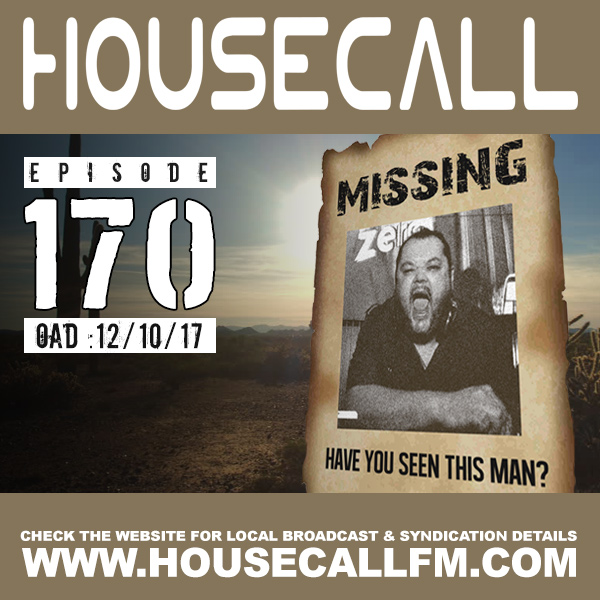 Guest
Host
EP.#
:
:
:
First broadcast on 12th October 2017
Casual Connection – Fever Of Dub
Apollo 84 – Nemesis
Risk Assessment feat. KE – Feel That
Rescue – Kinda Serious
Fisher – Ya Kidding
Angelo Ferreri – Jackin Anthem
Rich Pinder feat. Marck Jamz – Check Your Status (Lex & Wood Remix)
Vhyce – Just to Make Me
Tobias – Fiya Bun
Eli Brown – Hysteria
Billy Hendrix – Body Shine (Harry Romero Extended Remix)
The Groovelines – Got To Dance Disco (Chus & Ceballos Remix)
Amine Edge and DANCE vs Blaze – Lovelee Dae
Housemechanix – Fantasy (Jay Vegas Disco Mix)
JoeKen Featuring Kenny Summit – Better Times
Woody Bianchi and Black Connection – Keep Doin' It (Opolopo Remix)
Camelphat and Elderbrook – Cola (Mousse T's Glitterbox Mix)
Denney vs Mekon – What's Going On (Detlef ReEdit)
Block and Crown and Kaippa – Super Lovin'
Fama – A Little Bit (BKT Deep Summer Dub)
Stanton Warriors – Colima
Marlena Shaw – Woman of the Ghetto (Catz 'n Dogz Remix)
ATFC – Wonderlust
** Do You Remember House? **
Toni Scott – That's How I'm Living
East 57th St feat. Donna Allen – Saturday (Jazz 'N' Groove Original Vibe Vocal)
DJ Gomi feat. Louie Balo and Yasmeen – Glad I Found You (Scott Wozniak Vocal Mix)
Malachi – Work It
Joeski feat. EMan – I Remember House (Tribute Mix)
Hazzaro – I Want U
Samo – Straight On
Mastercris feat. Kathy Diamond – Whistle Down The Wild (Art Of Tones Remix)
DJ Romain – Break Down (Acid Disco Mix)
Max Chapman – La Fiesta
** Here's One I Made Earlier **
Grant Nelson – John's House
** What's In The Box? **
ICARUS – Trouble (Dreem Team Remix)
** Nelson's Secret Stash **
Ferrernaglia – Sinfonia Della Answer
** Flashback **
The Real Thing – Can You Feel The Force
Click Here
to see a complete list of every artist that has been featured on Housecall.