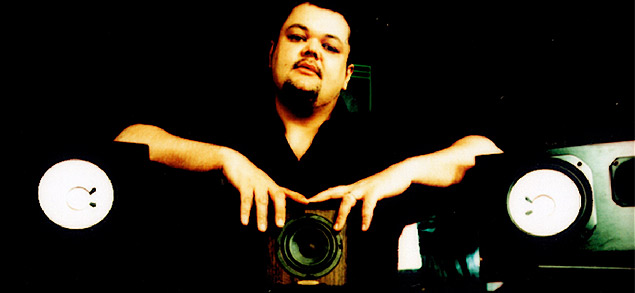 1971 – Grant Nelson was born in Essex, England.
1978 – He began messing around with his parents stereo system's by rigging up two separate hi-fi's and placing the speakers next to each other in front of a cassette deck with a built in mic. By meticulously recording & pausing he managed to splice together his first remixes.
1984 – Grant was bought a Korg Mono/Poly synthesizer for a birthday present and began teaching himself how to play the keyboard. He also had honed his splicing skills somewhat and was now re-mixing Electro cuts for his breakdance crew (don't ask!)
1985 – Formed a band with some school mates and they set out performing covers of pop tracks of the day including The Pet Shop Boys, Jody Watley, Harold Faltermeyer and other dance influenced music. This was also the year that he mailed off his remix of The Jets "Crush On You" to MCA records. He heard nothing back, but as fate would have it, years later he would end up doing a considerable amount of work for the label.
1986 – Persuaded his mum to invest in some "proper" dj decks, although they still didn't have pitch control, and was booked and paid for his first professional DJ gig. This led to a whole bunch of other gigs and quickly he was playing parties all over the place.
1987 – Grant hooked up with a friend with some financial back up and they began to throw their own Acid parties. All went well until one of the venues they had hired was trashed during a party and they got hit with the clean up bill. He went back to playing for other people after that!
1990 – Was offered a summer-long DJ contract in Jersey, CI where he was one of the first Dj's to bring the UK Rave scene to the island. The parties he played at became legendary, one even involved him being sacked from the booth for refusing the turn the music down which resulted in a mini-riot that shortly got him reinstated.
1991 – Got his first recording contract with London based Kickin' Records after sending in a really rough demo recorded on a budget 4 track tape machine. The Wishdokta was born!
1992 – Toured extensively as Wishdokta playing at some of the most prolific events & clubs in Europe including the Raindance raves in the UK & Tresor in Berlin.
1993 – Hooked up with DJ Vibes and began producing some of the Happy Hardcore scene's biggest anthems. This was also the year that he met George Power, one of Kiss FM's founders. Together they launched the Nice 'N' Ripe record label.
1994 – Numerous club hits with DJ Vibes while Grant's Nice 'n' Ripe releases were, unknowingly to him, laying the building blocks of a brand new UK house sound. It is because of his production output during this period why Grant is often referred to as the Godfather of UK Garage.
1995 – Grant founded Swing City Records with his partner Kate Ross. A label that would go on to become one of the World's most prolific independent house music labels.
1997 – With his Bump & Flex moniker he began smashing the newly created 2 Step Garage scene with one hit after another. Remixing artists like James Brown, Kelis, Aaliyah, Gabrielle etc
1998 – Formed N'n'G with legendary London DJ, Norris 'Da Boss' Windross. Their second single "Right Before My Eyes" was a commercial pop hit and is still, to this day, regarded as one of the biggest anthems of the genre. They also won an award for "Best Single" at the UK Garage awards the following year. Grant's single "Step 2 Me" is signed to Virgin records.
1999 – After his partner Kate had signed the track in it's original Latin/Jazz fusion format, Grant remixed & reproduced "Cada Vez" by Negrocan, which went on to sell over 2 million copies world-wide. It has been covered many times in many languages and has cemented it's place in house music history as one of the most successful latin house tracks of all time.
2000 – Compiles & mixes a double CD for Logic records entitled "Grant Nelson : In The Mix"
2001 – Under his Bump & Flex alter ego, Grant produced the Top 5 UK Single "B With Me" for pop band Mis-Teeq. Bump & Flex also sign their own single "Promises" to Warner Bros. UK.
2002 – Bump & Flex continue to remain one of the UK's most in demand production team's and score more hit remixes for the likes of Liberty X & Beverley Knight.
2003 – M-Gee (Grant & production partner Matt Schwartz) release "Bodyswerve" featuring Mica Paris on vocals. It became an instant classic and has been included on numerous compilations across the Globe. It has also recently been covered by De'lacy & Marco Gee.
2004 – A year of numerous remixes for 3rd party record labels, along with productions for his own Swing City label & a hectic dj'ing schedule.
2005 – Under his Nu Rhythmix guise Grant scores another 2 big hitters with "Babylon (Into A Groove)" & "Origins". The latter was picked up by the BBC as the theme music for their athletics coverage throughout the year.
2006 – Grant's remix of Solu Music's "Fade" turned a cool soulful house track into a world-wide commercial hit.
2007 – Grant releases "Spellbound" which becomes an international club hit!
2008 – Grant wrote & produced all of the content for the hugely successful "Ministry Of Sound Anthems" iPhone app. Along with Francesco Diaz, Grant mixed the House Affair 3 compilation for Music Mail in Germany. Grant also relaunches his seminal label from the mid-90's "Nice 'n' Ripe" with the first release flying straight to the top of the download charts.
2009 – "Brave New World" is another No.1 download and another club smash for Grant! In October he began presenting his own radio show on www.ssradio.com. "Housecall" was an instant hit and is currently being syndicated around the world on various FM & Digital stations.
2010 – Grant unleashes a latin based house track called "Brazilian Knights" which hits the No.1 download spot in less than 3 days as did his "Black Water" single with Cathy Battistessa which became one of the biggest soulful house tracks of the year. Compiled & mixed the compilation "20 Years Of Joey Negro" for Z Records as well as delivering hit club remixes for Soul Central, Richard Earnshaw & Raven Maize.
2011 – Toured extensively around the world and had another No.1 download with his only single of 2011 "Stealing Love". Grant's Housecall radio show passes the 2 million regular listener's mark and has become one of the most popular house music radio shows on the airwaves currently being syndicated to 44 Radio Stations around the planet.
2012 – Grant released his single Sundown which hit the #1 spot on Traxsource and then followed that up with a massive remix of his own "Babylon (Into A Groove)" recorded under his Nu Rhythmix moniker. His remix of Losh's "Nothing Can Come Between Us" was another club smash and then late in the year he dropped another club bomb with his single "Twelve" & a quickly followed it up with his remix of "You Made Me Do It" by Sonny Fodera & Danny Kane which sat at the #1 spot on Traxsource for over 5 weeks. This year also saw the launch of Grant's brand new record label Freeze Dried which was an instant hit with the debut single topping the download charts and subsequent singles all doing extremely well on Traxsource & Beatport.
Grant has also released several sample libraries for record producers, the first of which was the highly acclaimed "Studio Essentials", which has featured on numerous commercial recordings. In 2009 he released "Chordworx", a software system enabling non-keyboard playing producers to create complex chord arrangements for their own productions which became the Number 1 selling Producer Pack on Traxsource in 2009.
Grant has built up a vast discography across various musical genres, including over 500 productions & remixes for Jamiroquai, Beverly Knight, Jodeci, Simply Red, GUY, James Brown, Another Level, The Artful Dodger, Liberty X, Towa Tei, Alexander O'Neal, Rosie Gaines, Mis-Teeq, Hinda Hicks, Bebel Gilberto, Ayumi Hamasaki, The Reel People, Roy Ayers, The Audio Bullys, MJ Cole, Tyler James & Agnes, Chieko Kinbara to name a few.
He is also a very prolific & highly acclaimed DJ that has played at major venues & festivals right across the world. Some of the countries he has performed in include ; Australia, Austria, France, Germany, Spain (Mainland, Ibiza & Mallorca), Cyprus, Italy, Switzerland, Ukraine, Thailand, Croatia, Russia, Latvia, Finland, Sweden, Norway, Denmark, Yugoslavia, South Africa, Estonia, Indonesia, Japan, Hong Kong, Singapore, South Korea, Phillipines, United Arab Emirates, Georgia, Bulgaria, Poland, Portugal, Brazil, as well as the USA and the UK.
Current Work…
Housecall continues to get bigger and bigger and currently reaches over 3 million listeners around the world every fortnight. Due to the overwhelming popularity of the show he is planning to take the Housecall brand on the road with a series of events during 2013.
His studio schedule is overflowing at the moment while he works on a multitude of productions & remixes so expect to see a lot of new music this year!
Grant is widely regarded as the Godfather Of UK Garage and his pivotal role in the history of this genre has been recently documented in a new movie called "Rewind", to be released in early 2013. During the year he will also be touring Asia, Australia, South Africa, The United States, Canada, South America and Europe.
Grant has been nominated for Best International DJ at the 2013 DDJ Awards and will be headlining a stage at this years world renowned Glastonbury Festival.